St. Louis Magazine : Midwestern Decency Is for Losers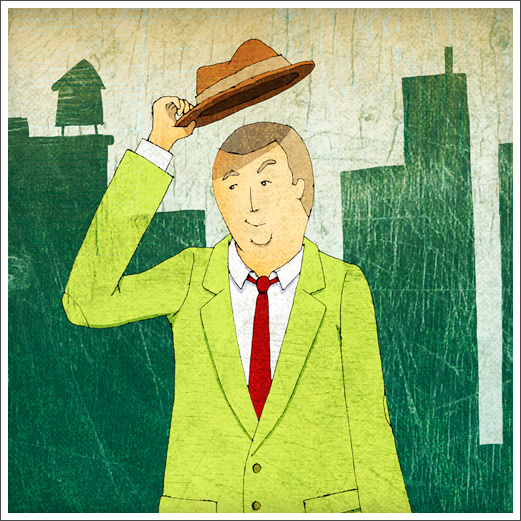 Editorial illustration done for an article titled, "Midwestern Decency Is for Losers." It was a piece that went on to tell the story of editor Steve Friedman's journey from St. Louis to New York promoting his new memoir Lost on Treasure Island. There was a lot of colorful dialogue and text in the story. One prominent points was a lime green suit that Friedman buys under poor lighting conditions with the assumption that it is gray. The actual color isn't realized (to his horror) until he's walking down the streets of NYC and a mime begins mocking him during his interview lunch with GQ magazine.
As for the caterpillar reference... Friedman continuously illustrates himself through disempowering phrases his entire life, "I don't know," "I'm not sure," "I'll think about it," etc. He goes on to compare himself to a wily moth caterpillar as well. When he makes a failed attempt to return the lime green suit at Dillard's department store (altered suits are non-refundable), he begins repeating over and over in his head, "I am not a moth caterpillar, I am not a moth caterpillar." He then decides to use his new position he's just accepted as senior editor of GQ magazine to threaten the sales lady for being deceptive and selling him a gray suit that was actually lime green (not mentioning that he thought it was gray too). He tells her of his new position at GQ and threatens to review the store's return policy and quote her name within the article. The scene ends with her writing him a refund voucher.
Initially, visuals for this story were a little hard to nail down because there was so much material to pull from. After discussing some of the lines from the story that I was drawn to with the art director this was where the final ended up. A bit strange and bizarre... just how I like it.






ILLUSTRATION · DESIGN · ABOUT · CONTACT · $$$TORE · BLOG · TWITTER
ALL WORK © JESSE KUHN / RAWTOASTDESIGN